OK, not everyone is privy to my

obsession

with Michael

Buble

. But I am

obsessed

! And my dear and very wise employers have decided to feed that

obsession

for Christmas! My very generous Christmas gift this year was tickets to the Michael

Buble

concert coming in February for Meghan and I. I am SO

totally

stoked! I can't wait!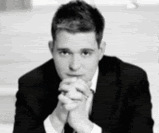 I can promise you that more will be coming about one of my favorite topics! And pictures to boot!